Intimate destination wedding in Austria… an elopement story
Once upon a time, there was a couple named Svenja and Markus who were planning their dream wedding. They had always talked about having a destination wedding, but they weren't quite sure where to go. One day, while scrolling through Instagram, Svenja stumbled upon a breathtaking photo of a winter wonderland in Austria and just like that their intimate destination wedding became a fact.
Intimate destination wedding in Austria: stunning landscapes
Svenja couldn't believe how stunning the landscape looked. There were snow-capped mountains, charming villages, and cozy lodges that looked perfect for a romantic wedding celebration. She immediately showed the photo to Markus, who was equally impressed.
After some research, they decided that a winter wedding in Austria was exactly what they wanted. They contacted a wedding planner who specialized in destination weddings, and together they began to plan the most magical day of their lives.
They chose a charming lodge nestled in the mountains for their wedding venue. The lodge had a rustic yet elegant feel, with a roaring fireplace and sweeping views of the snowy landscape.
The wedding ceremony
On the day of the wedding, Svenja and Markus exchanged vows in front of a wedding celebrant surrounded by stunning mountain views.
A sand ceremony framed this unforgettable ceremony and symbolized how two individual personalities become a common unity. The different colors of sand merged into one vessel, sealing the love of the couple forever.
Thick snowflakes and a warm blanket created cozy and romantic photos that perfectly captured the intimate and loving atmosphere of the day. The snowy setting added an extra touch of magic to the already special occasion, making it a truly unforgettable experience for everyone involved.
After the ceremony, the couple enjoyed a delicious dinner of Austrian cuisine, complete with local wine and beer.
Intimate destination wedding in Austria: stunning landscapes
Svenja and Markus agree that their winter wedding in Austria was everything they had dreamed of and more. The stunning scenery, cozy atmosphere, and unique experiences made their special day truly unforgettable. They would recommend an intimate winter wedding in Austria to any couple looking for a one-of-a-kind celebration that they will never forget.
Here are some of the benefits of having a winter wedding in Austria:
Stunning natural beauty: Austria is known for its stunning natural landscapes, particularly in the winter when the mountains are covered in snow. This creates a beautiful and romantic backdrop for a wedding celebration.
Cozy atmosphere: Winter weddings have a cozy and intimate feel, which is perfect for celebrating with loved ones. The cold weather outside makes it all the more enjoyable to gather around a warm fire or enjoy a hot drink.
Unique experiences: A winter wedding in Austria offers unique experiences that aren't available in other seasons. Guests can enjoy skiing, sledding, and other winter sports, as well as visit Christmas markets and other winter festivals.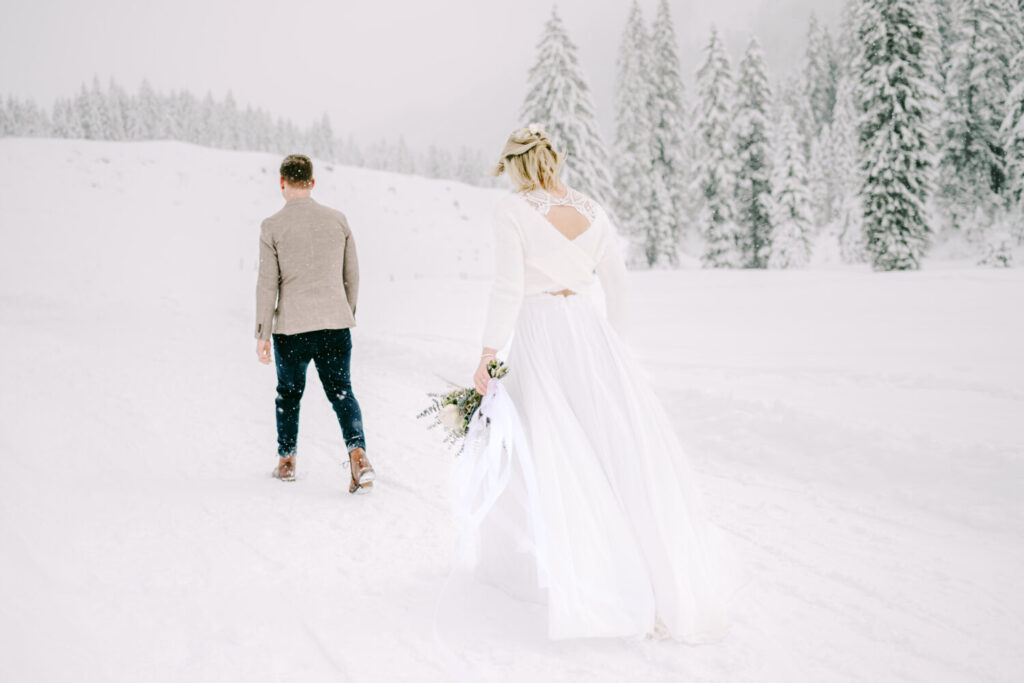 Lower costs: In some cases, having a winter wedding in Austria can be more affordable than a summer wedding, since it is considered the off-season. This means that couples can often get better rates on venues, accommodations, and other wedding services.
Fewer crowds: Since winter weddings are less common than summer weddings, couples can enjoy a more intimate celebration with fewer crowds and distractions.
Overall, a winter wedding in Austria offers a unique and memorable experience that couples and their guests will cherish for a lifetime.
The wedding team:
Organization & Photography: @lovestories.by.leonie | www.leonieleder.de
Hair & Makeup: @jara_beauty_
Wedding officiant: @herzbluehen_katrin
Floristry: @kreativservicebyvd www.kreativservicebyvd.de
Stationery: @judith.fackler.papeterie | www.etsy.com/shop/Makramio
Bridal outfit: @brautlaedle.augsburgland @whitesilhouette_brautmoden | www.brautlaedle-augsburgland.de
Decoration: @jara_handmade
Models: @svenk_ja & @stern_90