Covid-weddings, say what?! 2020, we will always remember you as the year we were forced to literally distance ourselves from family, friends and loved ones. The global outbreak of covid-19 made us realize more than ever how important our relationships are. Big wedding parties were a no go in 2020 and many couples had to postpone their wedding. Others decided to face reality and adapt their wedding plans to the current health crisis.
However, despite possible changes in appearance and guest size, the unprecedented circumstances remind us of the meaning of a wedding: which is to make a commitment to one another and celebrate love. Even during a pandemic, marriage remains a beautiful cause to celebrate, and we need celebrations more than ever now! Over the better part of the last year, weddings have taken a shift to smaller, more intimate celebrations. In these series we take you all around the world to meet international couples that decided to put their love first. After all, love is not cancelled! Meet Nikol and Leo from Croatia...
If their relationship milestones are any proof, Nikol and Leonard have a thing for the beautiful mountains in Istria, Croatia. The couple first met at high school in 2008. "We went on our first official date and have been inseparable ever since," Nikol admits.
The Blonde Wedding Reporter: Hello, Nikol. How did you and Leonard meet?
Nikol: We met and fell in love exactly 13 years ago and we've been crazy in love ever since. Our adventure started in high school and it was a happy and entertaining period of our lives. According to our mutual friends, it was obvious that we were created for each other. They decided to play matchmaker and planned on bringing us together. Since then, we´ve both grown and learned from each other. Of course, there were ups and downs, but that only made us stronger and made our relationship unbreakable and above all filled with respect and mutual trust.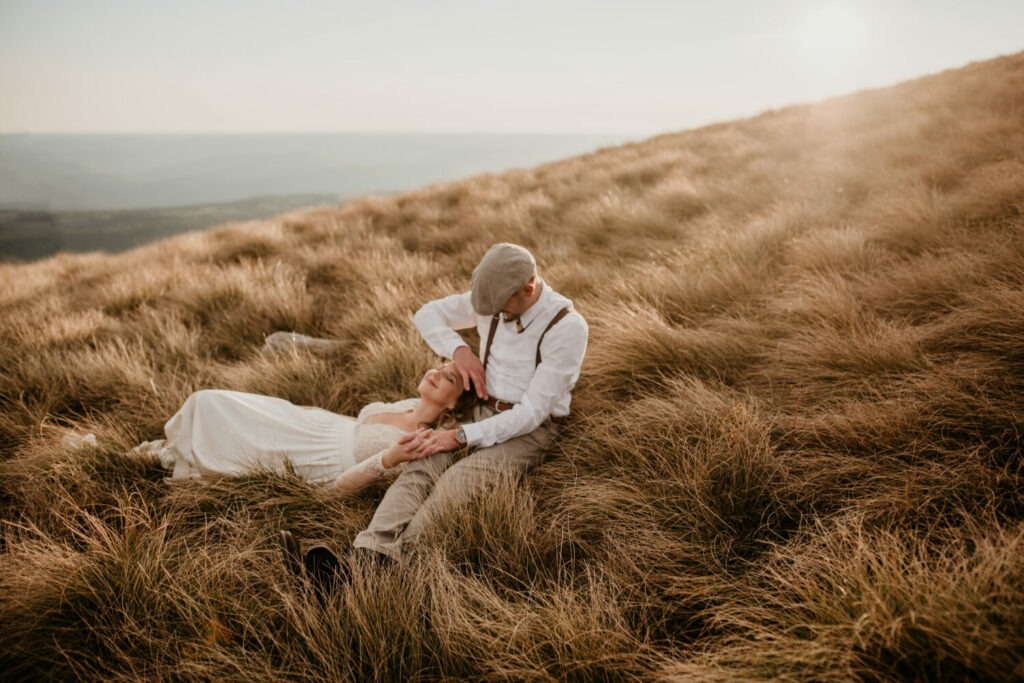 TBWR: Did Leonard propose to you and did he do this in a special way?
Nikol: Yes, he proposed to me and of course it didn't go as he originally planned. 🙂 He wanted to pop the question on my birthday, in front of our family and friends. Everybody- besides me-, knew about his plans. There was a little problem though: the ring he had ordered didn't arrive on time. So after few days, when the ring had finally arrived, he organized a private dinner in a restaurant. Not being able to hold his patience, he woke me up in the middle of the night, saying he couldn't wait any longer and popped the question. I immediately said yes, even though I was half asleep 🙂 For me, this was the sweetest proposal ever! <3
TBWR: Let talk about your wedding dress? Can you describe your dream gown?
Nikol: So, I knew what kind of a dress I wanted, but it was nowhere to find. In every bridal boutique I visited every dress looked the same to me. They were all over the top with lots of crystal beading, lots of layers, etc. I wanted a simple lace top and a satin skirt in ivory.
So, after many dissapointements I went to a dressmaker in the town of Pazin. Mirjana, the seamstress, made my dreams come true. She really gave it her best and it was the best choice I could have made. She listened to me and together we discussed my wishes. When I put on my wedding dress during the first fitting, everybody around me was crying happy tears. 🙂 When I noticed my mum, grandma and sister in tears, I knew I was wearing my perfect dress.
TBWR: Did you have a themed wedding?
Nikol: No, we didn't have a themed wedding. But we really like woodland, boho and vintage style, so we combined a little bit of everything we like and created our own wedding theme. 🙂
TBWR: Why was it important for you to get married?
Nikol: We wanted to get married, because we cannot wait to start a new chapter in our lives. When you are in a long relationship, you start to talk about your life together and your future plans. And then you take your first step. And the first step for us was getting married. We hoped to gather our closest friends and family to celebrate our love and to have a great party.
TBWR: Why did you decide to organize a wedding during a global pandemic outbreak?
Nikol: We started planning our wedding before the pandemic hit. You know, you need to book a wedding venue, a photographer, a music band, etc. at least one year before the wedding date. And when we were close to finalizing everything, Covid-19 hit and disrupted all our plans. It was a very stressful period. After lots of talking we decided to go for it, no matter what. We knew that we could pull it off, because of the support of our family and friends.
TBWR: Did the Covid 19-situation affect your wedding plans?
Nikol: Covid-19 did affect our wedding plans. Looking back I must admit, I couldn't be more thankful for it. Instead of focussing on superficial banalities, our wedding turned out to be small and intimate, orientated towards the people that matter. We got married on the peak of a mountain called Korita (Ćićarija). This is a very special place for my family and me. In fact it's my father's homeland and we have a house over there. It's also a place where my husband, our dog Thor and I always go on adventure. The mountain is literally in our hearts.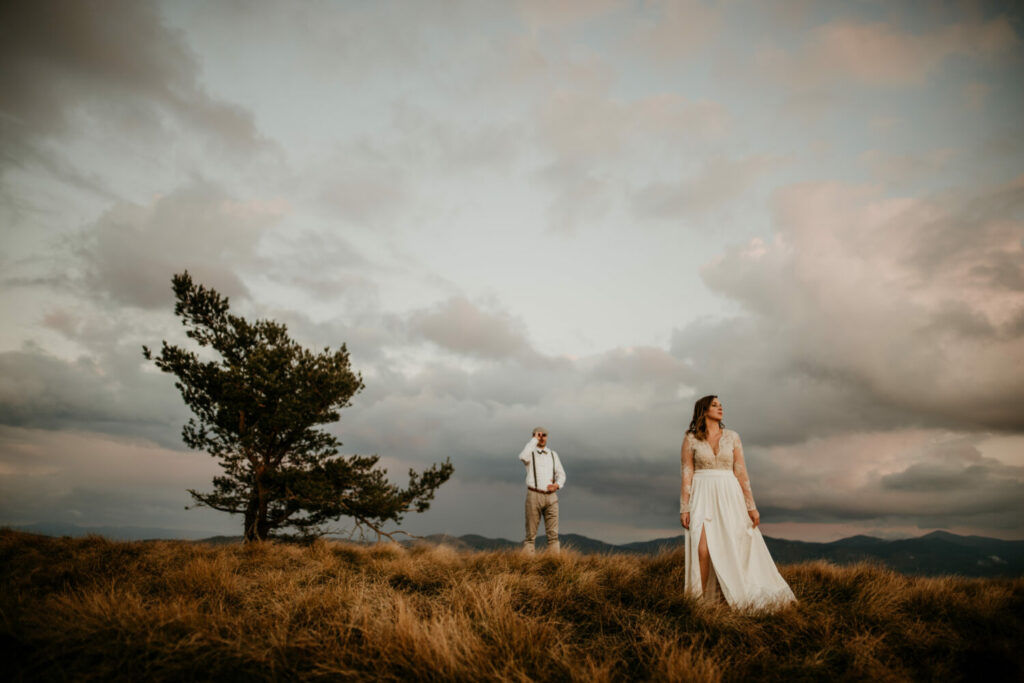 TBWR: How did you cope with the restrictions?
Nikol: We had to drastistly change our number of wedding guests. We did it with great regret and that's the only thing we wish we've could have changed about our wedding day.
TBWR: If you could do it all over again, would you get married again or would you postpone your wedding?
Nikol: If I could do it all over againn I wouldn't change a thing! 🙂
TBWR: What advise would you give engaged couples that still need to get married?
Nikol: I would say, go for it! Don't let a couple of restrictions prevent you from having the most beautiful day in your lives. Don't worry about things that in the end don't matter, just enjoy and have fun. 🙂
TBWR: What is a typical feature of a Croatian wedding? .
Nikol: Every part in Croatia has some typical traditions when it comes to weddings. For example, here in Istria, the groom needs to go pick his bride at her family's house, but he will run into obstacles on the way. There could be a tree branch on the road just to name one thing… 😊
We also integrated traditional gastronomy on our wedding menu. Here in Istria truffles are very popular and a lot of people are offering them on their weddings. And of course there should always be homemade wine and beef, which we call boškarin or fish.
We wish Nikol and Leonard a beautiful start of their lives together. <3
The Wedding Team
Photography: Andrea Grzicic Weddings. www.andreagrzicic.com. Instagram: @andrea.grzicic.weddings
Wedding dress: Tailoring salon "Mirjana". Founder: Mirjana Mogorović
Make- Up: Helena Šoljan. Instagram: @helenasoljan
Hair: Hair studio "Maja", owned by Maja Sošić.
Florals: Flower shop "Kristina" in Nova Vas
Wedding venue: Rustic tavern "Laura", owned by Donatela Šegon
Wedding cake: Concettino. www.concettino.hrhttp://concettino.hr/
Are you thinking about planning a destination wedding in Croatia, but don't know where to start? Click here and check out our homepage and contact us to receive more information.